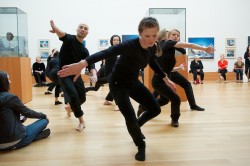 Eight dancers are moving through the intimate galleries of the Thomson Canadian Collection at the AGO…following the trail of folk songs that Ciara, my singing partner, and I are leaving behind. The acoustic is incredible and sung notes hang in the air forever, spreading and amplifying.
I am looking at some very famous paintings as I sing; I am honoured to be in the company of true celebrity. And as I move from room to room I see the unique and communicative topography of Sahara, and of Rick and of Andrea, as they inhabit space and gesture. I am finding it overwhelming to be this open…my breath and sound expanding…while taking in so much beauty. I try hard not to cry… but my job is to access all the resonators used in crying in order to sing! I want to touch paint and performer and public with my sound.
The piece is 'land/body/breath'. Peggy has culled and curated choreographic phrases from her vast repertoire and they are the terrain the dancers are to inhabit and which we, the singers, will traverse. I marvel at the geography we all share. The Canadian wilderness, now muscle and bone and skin; breath flowing in and out, wind following the contour of northern shield and prairie grass.
Sarah, Kate, Sean, Ben, and Jessica join Andrea, Rick and Sahara in making sound. Spread through eight rooms they are now imitating the calls of birds – chirping,
squawking, hearing each other, near and far. Pausing in their movement phrases to let their voices ring out. Birdsong turning the gallery into forest.
The coldness Canada is famous for is something to celebrate too. It tempers our daily experience and lives in our cellular inheritance. The dancers offer words along with with abstract 'pioneer' work gestures – frozen toes, red cheeks, mittens and gloves, avalanche, snowshoes, snowflakes, hot chocolate, snow angels, skates, fresh sparkling snow, snow, snow. Ecstatic winter.
They moan and lunge their way into the central gallery. Ciara and I have been waiting for them in this cathedral to Lauren Harris' genius. We have howled like wind, and will continue as mosquitoes and babbling brooks, watching the dancers like hawks, melding our voices with their movement language, eventually providing some boreal beauty through a looped and luscious version of Gordon Lightfoot's 'Railroad Trilogy.'  Thirty minutes later we have arrived at the essence of Canadian landscape sharing a gentle throat singing pattern that takes us into Neil Young's 'Helpless.'
There is a town in north Ontario,
With dream comfort memory to spare,
And in my mind, I still need a place to go,
All my changes were there.
Blue, blue windows behind the stars,
Yellow moon on the rise,
Big birds flying across the sky,
Throwing shadows on our eyes.
Leave us…Helpless, helpless, helpless…
Baby can you hear me now?
The chains are locked
and tied across the door,
Baby, sing with me somehow.