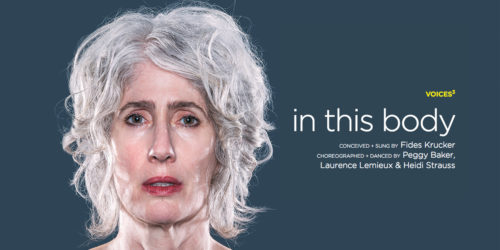 The wilderness of a woman's heart, voiced through Canadian song and danced to the edge. Fides Krucker – one of Canada's most original vocalists – and her ensemble are joined by three extraordinary dancers: Peggy Baker, Laurence Lemieux and Heidi Strauss. Together, they brave the landscape of our country's great songbook – from Joni Mitchell, Alanis Morissette, and k.d. lang, to Lhasa de Sela, Feist, Hawksley Workman, Serena Ryder, and more. An emotional cartographer's dream.
November 17th and 18th
Fides, Heidi & musicians perform at HCC PRESENTS: GATHERING at St. Paul's Community Centre, Orillia.
November 25th and 26th
Katherine and Fides offer a Kundalini Yoga and Voice Workshop fundraiser in Caledon.
December 18th – 22nd
Final week of development + solstice fundraiser at The Citadel.
February 15th, 2018
Fundraiser at Labour of Love.

Support 'in this body' via PayPal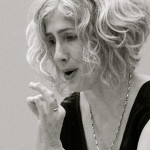 Photo by Makoto Hirata —– I live by the salt water, and look out every day on a rock where seals sunbathe; my distance vision is impressionistic, the bodies lounging where rock meets wave might as well be mermaids….